Who's Your Poppy?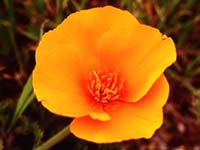 How many of us know our state's flower and animal? How the hell did we get into the habit of making state sponsored flowers and animals? Guess what, we all even have state sponsored dances, fish, insects etc...
Here's your task: Tell me your state's flower, animal and one kooky state sponsored thing.
I'll start. California: Flower -- California Poppy, Animal -- Grizzly Bear, Kooky State Thing -- State rock = Serpentine.
Want to know more California state stuff? Read
here
.
For extra credit: What's our national flower? Don't google to find out.